Appalachia Service Project (ASP) is a Christian ministry, open to all people, that inspires hope and service through volunteer home repair and replacement in Central Appalachia.
Repairing Homes, Transforming Lives
ASP provides one of the most rewarding structured service opportunities in the nation — bringing thousands of volunteers from around the country to rural Central Appalachia to repair homes for low-income families.
For more information, check out Appalachia Service Project website HERE.


Appalachia Service Project at Resurrection
High school youth and adults join with others from around the country to help improve living conditions of those in need in the Appalachia region. Groups from RLC have been participating with the ASP in various places in the Appalachian mountains since the summer of 2000.
For more information about ASP at RLC, contact Tom Kuhl.


The 2018 ASP Servant Trip was June 17-23 in West Virginia.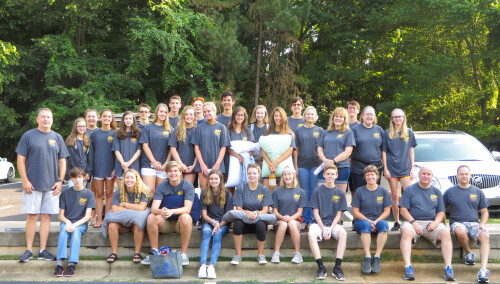 It was another successful year for ASP! The 18th summer that RLC has sent teams to Appalachia to perform house repairs for some of the poorest people in our country.
This year, we were assigned to Logan County, West Virginia. RLC served in this county back in 2010. We had 36 volunteers make the trip – 25 youth and 11 adults.
The theme this year was "Called to Action" from Isaiah 6:8. The verse says, "Then I heard the voice of the Lord saying, 'Whom shall I send, and who will go for us?' And I said, 'Here I am; send me!'"
Our youth and adults did exactly that. The action lasted 7 days and we had 5 work crews working on projects, such as repairing and replacing floors, building a room addition, handicap ramps and front porches for safe entry and exit, repairing and rebuilding interior walls and more.
In addition to repairing homes, many relationships were formed with the homeowners, the other churches who served with us, and between the youth and adult leaders.
As an example, I received a call from one of the homeowners that we did work for. He just called to tell me again how thankful he was for all of the work that we did and was so impressed that our youth would give up a week of their summer to help him. He was very emotional, felt very blessed, and asked me to keep in touch.
We will be back to ASP on June 16-22, 2019 so please mark your calendars now! Come see why RLC has sent over 550 youth and adults to this program since 2000. It is a great week to change a life and it might just be yours!
Finally, a big thank you to all the attendees, the congregation, and all those who participated in the adopt-a-family campaign to make this trip possible.
2018 ASP

2018 Attendees
Youth: Andrew Bohlmann, Anna Bohlmann, Brandon Burgiss, Ellie Bucci, Kara Bucci, Erin Coyne, Saja Drury, Carter Farrell, Grace Farrell , Danielle Garrison, Leah Garrison, Zachary Heffner, Ethan Kuo, Tyler Mick, Carolina Moscatello, Barbara Moll, Trevor Morris, Emma Persson, Anna Porter, Olivia Roehl, Emily Roehl, Christopher Saacks, Alexia Vagle, Andrew Vagle, and Lindsay Veit.
Adults: Carolyn Bohlmann, Suzi Heffner, Pamela Kuhl, Tom Kuhl, Betsy Moll, Eric Mick, Charlie Mule, Jake Mule, Neil Porter, Cyndy Vagle, and John Wood.